Pre-Leasing Begins for Renovated Former Deming Center
Arthur Foulkes | TRIBUNE-STAR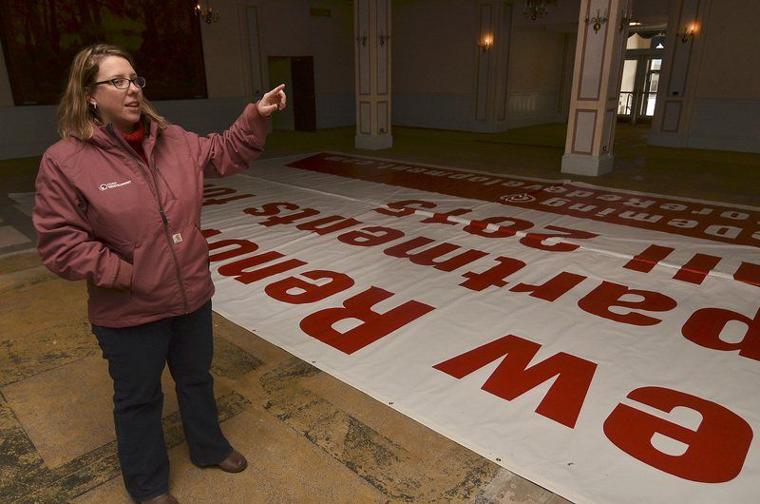 On Friday, when the outside air temperatures were in the teens, the inside of the former Hotel Deming was still pretty chilly. But that hasn't stopped Core Redevelopment, an Indianapolis company, from giving room tours and signing up tenants for the eight-story, historic downtown property.
Core will provide 111 apartments, mostly one-bedroom, in the former Deming Center. To prepare, the company is ripping out the old ceilings and stripping the floors down to their base cement.
Through the hanging wires, bare walls and stripped floors, the sturdy skeleton of the once majestic building is beginning to take shape.
"We don't do new [buildings] for a reason," said Maggie LaRoche, a regional property manager for Core.
Despite the cold and the completely unfinished look of the apartments, Kirsten Hudson, the property manager, has already pre-leased more than a half-dozen units, she said Friday. She expects to have "The Deming" fully leased this spring, and tenants are expected to move in before the Fall semester of 2015, she said. Her appointment book is filling up fast, she said.
Core Redevelopment, which has renovated historic structures in Indianapolis and elsewhere, works quickly. The company signed an agreement just a year ago to buy the old building from the Terre Haute Housing Authority for $800,000, with another $75,000 paid to the Housing Authority for vacating the property before the end of the year.
"That's the way Core does business," LaRoche said. Sometimes leasing agents show apartment spaces while wearing hardhats, she said.
Core expects to invest more than $5 million in the building, company officials have said. For the past several decades, the building provided low-income housing through the Terre Haute Housing Authority.
The new "luxury" apartments will have central air and heating, cherry cabinets, granite counter tops, stainless steel sinks and much more, LaRoche said. There will also be a laundry room and the large former hotel lobby will become a vast media room, she said. The building's five studio apartments will rent for $599 per month. The one-bedroom apartments will start at $669 and the two-bedrooms will start at $829, she said.
The first floor of the building is reserved for commercial space. A small restaurant is expected in one area, and Core officials have another tenant in mind for the ground floor, but that's still being kept under wraps, they said. However, the idea is to rent to businesses offering something unique for the downtown, LaRoche said.
Some of the apartments have striking views of the Indiana State University campus. Others have views looking west toward the Wabash River and the Vigo County Courthouse. One recent evening Hudson was in one of the upper floors looking west at sunset, she recalled.
"The sky was orange and red, and you could see the river," Hudson said. "It was just amazing."
For more information about The Deming, call 812-814-9040 or email TheDeming@CoreRedevelopment.com.
Reporter Arthur Foulkes can be reached at 812-231-4232 or arthur.foulkes@tribstar.com